The difference between a £12, £25 and £50 bra...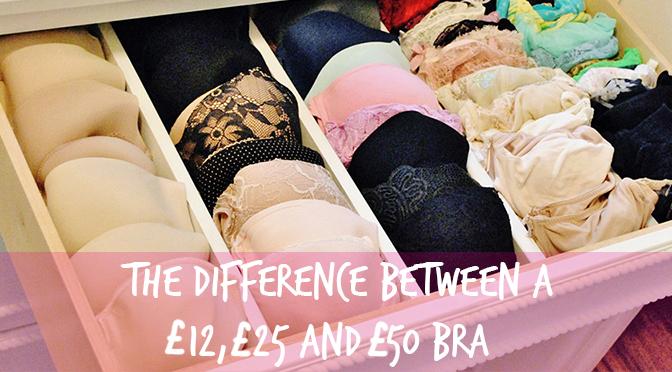 To all our curvy ladies out there, we know all too well the importance of a decent bra, am i right?! Whether you're trying to pinch the pennies or not, the amount you spend is pretty telling to the quality and shelf life of the bra. In a previous post we delved into why our Curvy Kate and Scantilly bras cost just that little bit more than high street stores – so do take a read here 😊
We decided to compare £12, £25 and £50 bras to see the obvious differences them. Below are the three bras, each fitting into the price bracket of £12, £25 and £50
The basic £12 bra... is a staple in anyone's drawer, we've all got one somewhere, whether it was for a bra emergency or you by them regularly (because they fall apart just by looking at it!😉) but us Brits definitely have at least one Primarni special floating about. If a bra costs £12 or less it's most definitely not been made correctly or in a sustainable way. Bras are actually very high-tech devices - making them so they actually do what they're meant to do is complicated and therefore, expensive. For fuller busted gals cheaper and flimsy unsupported bras just wont do, that's if you can even find the cheaper ones in your size...
You won't be saying this when your bra actually does it's job!
Now the £25 bra... is a more realistic price for a simple, well designed and well made bra. One of our newest sets called Lifestyle is already becoming a Curvy Kate staple with its simple yet stylish fully sheer plunge shape, its perfect for everyday wear and made so you can wear it regularly without it falling apart, Woohoo! That's not to say all £25 bras are all made with your boobs in mind, so before buying from ANY lingerie brand do some research. Want a £30-£50 bra for the price of a £12 bra? Then hit the sales, these bras have been made with the same attention to detail but for a fraction of the price due to new season stock and of course Curvy Kate and Scantilly have a huge sale on with bras from £12 right here! Bargs...
Lifestyle Bra and Brief
The £50 bra... every bra-wearer has had at least one foul mouthed rant about the cost of bras, especially for those who can't even find their size in the cheaper options. Buying one bra can be a huge splurge, let alone getting the other three you need for that top, shirt or dress. A lot of our Scantilly bras push the £50 bracket and honestly this isn't because we want to steal all your money! Our bras are incredibly detailed, from the way it fits your bust, your friends bust and to your next door neighbours. Curvy Kate and Scantilly specialises in D-K and DD-H cups, making it our priority to provide gorgeous bras that make your big boobs happy with plenty of choice!
Big Love! x