Ten years of supporting your boobs!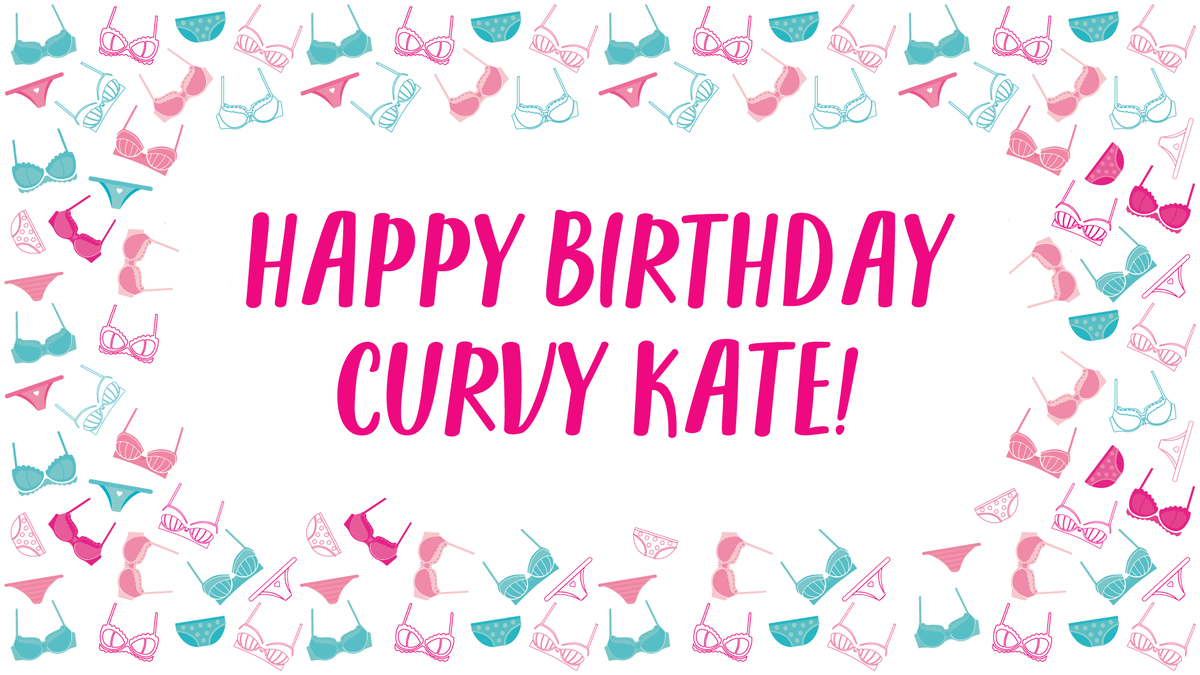 🎈 It's our birthday month! 🎉
We thought we would celebrate our 10th birthday with a brief lingerie history (excuse the pun) and share with you Curvy Kate's finest moments over the last 10 years!
WAY BACK:
Wearing clothing items that look bra-like goes back thousands of years, but it wasn't until 1907 when Vogue reported on a brassiere that bra sizing and shapes came into play.
The first bra to be patented was in 1914 by Mary Phelps-Jacobs, it was sized by inches on the bust and it wasn't until 1935 that cup sizing become a thing! Warner then introduced 4 cup sizes, A, B, C and D, it is reported that Marilyn Monroe wore a size 36D, which in todays sizing our Bra Whisperer would probably say she was a 30FF!
1950's
A time of great fashion, and the conical bra is still to this day an iconic look! The pointy bra shape is one which manufacturers shy away from nowadays but it was the hottest look for a decade! The 60's and 70's saw a more practical take on lingerie, bras become supportive and to be worn as underwear, particularly lacy and stretchy.
Material Girl
1980's
A decade of motivation and fitness, Lycra was trending and lingerie was erotic... Madonna reignited the conical bra with the help of Jean Paul Gaultier and prepared the world for the cleavage of the 90's.
1990's
This decade was all about fully padded, low cut bras with high lift, lingerie became more innovative and the size ranges wider with DD+ cups hitting the high street!
2000's
The noughtiessaw the launch of a gel bra, one which meant you wouldn't loose your chicken fillet on a night out! Because of all of these innovations in lingerie design, boobs became more of a focus and retailers began to be educated on the importance of fit and the wide size range which brands have to offer.
2009
CURVY KATE WAS BORN!
The millennium saw a rise in demand for DD+ brands and in 2009 Curvy Kate came to play! We launched our debut fun and fabulous fuller bust lingerie collection in sizes 28"-40", D-J cup. The demand for our lingerie led us to launch our swimwear collection in 2012 from 28"-40", D-K cup.
Star in a Bra
Curvy Kate created Star in a Bra, an epic campaign which meant YOU could be the face of your favourite lingerie brand! Over the years we have had thousands of entries and seen many of our entrants go on to be incredibly successful body positive influencers and models, which just fills us with happiness!
Laura and Lauren have been in the Curvy Kate family for the long-run and we just love what they bring to our campaigns, ten years on and they are more fabulous than ever! We even took Star in a Bra stateside and in 2017 we crowned our latest Star in a Bra winner, our girl Taylor!
2015
The year of our sexy fuller bust sister, Scantilly, ever since, she has graced us with empowering and daring designs from 30"-38" DD-HH cup.
*Explicit Warning *
In 2015, we brought joy to fuller bust women EVERYWHERE with our best-selling strapless bra, Luxe, which holds up your boobs to a J cup! Ladies, you NEED this bra in your lingerie drawer as it really is amazing! Our fun and frolics in our latest #Luxe4Life campaign just shows the versatility of the bra...
2018
#MyBodyVictory hit the headlines in 2018, as a collective of influencers and models spoke about their body victories whilst showcasing our best-selling Victory bra in a super inspiring piece and one which we are very proud of.
Here is our fav Hayley Hasselhoff speaking of her body victory.
2019
It has been a cracking start to 2019, as told by Cosmopolitan magazine - Curvy Kate broke the internet with our fastest selling swimwear collection, Wrapsody! Influencers all over the globe showed us how they wrap their swimsuit and bikini to inspire our followers!
We are so proud to create lingerie and swimwear to make women feel fabulous and we can't wait to share the future collections with you!
🥂 Cheers to 10 more years of supporting your boobs! #CurvyKateis10 🍾
Lingerie - New In: