Scantilly Peek-a-Boo has had a sexy lace update...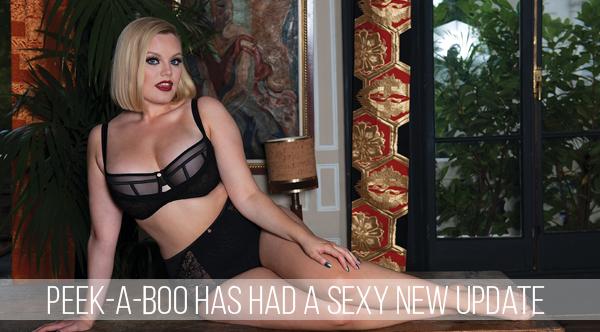 Say hello to the new Peek-a-Boo. Your popular Scantilly fave has just had a lace update.
So what's new?
This balcony bra still has the same sheer mesh cups meaning the same great fit but the satin has been replaced. Peek-a-Boo Lace turns the dial up to red-hot with a delicate stretch lace draping over the cups.
Peekaboo Lace - Click to shop
The biggest change comes in the great new briefs! High-Waist honeyz rejoice, your prayers have been answered. The newly updated brief, with sexy lace panels is super flattering and is sure to get pulses racing. And hey, there is still a surprise in the back! The unapologetic back panel cutouts take this sophisticated set to a whole new level.
Peekaboo Lace High Waist Brief - Click to Shop
Our head of design had a few words to say about the hot new drop with some added fit tips - "Peek A Book Lace is our newly dressed version of Peek A Boo Satin. The satin style has had a big following from its first launch, so we felt it was high time to dress her up in some beautiful soft, stretch lace around the cups to add a little feminine touch to this sassy set. The delicate lace around the cups and bum cheeks is super smooth so you feel secure and sexy all at the same time. The fabulous fit of the bra is unchanged, so ladies can buy exactly the same size they already have in the stain version" - Olivia Wilson
So, do you love the new Peek-a-Boo as much as we do?
We can't wait to see you all in our fave new Scantilly piece. Make sure you share with us on Instagram #ScantillyClad and you might just feature on the grid x