Party Essentials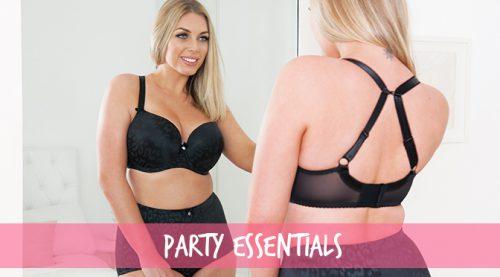 A New Year is upon us and we all know what that means, PARTIES! We've all been stuffing our face for the last two weeks and definitely NOT feeling guilty one little bit. It has been Christmas after all! But we still all have those dressess we wanna feel amazing in come new year! It can be daunting but with our everyday essentials you'll slay your 2018 party looks and still be able to breath!
Our Victory Bra now comes in three colours! Black, Latte and Electric Blue, YAS Electric Blue! This bra has been a game changer, our first 4-part cup that really pushes the puppies in and up ☝️ It's ideal for bigger busted gals whose boobs have a mind of their own and need a little taming...
Victory Bra! Click Image to Shop!
Curvy Kate Luxe is the BEST Strapless bra for big boobs – it lifts, it's sooo comfortable and won't slip throughout the day! So, if you're wanting to show some shoulder and not worry about any slipping this bra will be your new BFF! It comes in Black, White and Biscotti!
Luxe Strapless! Click Image to Shop
Smoothie Wild is our seam free wonder bra with it's matching Shaper Brief it will hide a multitude of sins on the big night whilst showing off your beautiful curves with his bum lifting features!
Smoothie Wild! Click image to shop!
No more boring basics with Princess Black and Ellace Latte, you'll feel fun and flirty in these supportive balcony bras! Great for style and comfort...
Click image to shop essentials!
Why not go for ultimate comfort in our Daily Dream Padded Balcony Bras! Styled in a comfy smooth fabric, it's padded so your boobs will feel like they're sitting on soft clouds. The perfect everyday bra to evening bra!