OMG! Our Strapless Bra Can Hold How Much?!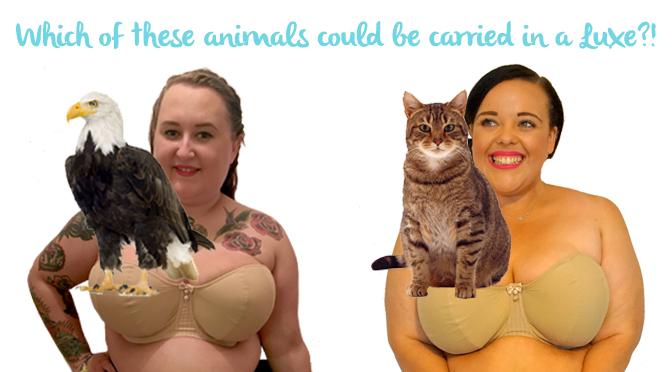 If you're a fan of Curvy Kate then you have more than likely heard of our Strapless Bra, the Luxe. If you haven't heard of it then where have you been?!? Because guess what? This ain't no ordinary strapless.
An 'ordinary' strapless would fall down, dig in and be generally uncomfortable. It wouldn't hold up your puppies, you wouldn't feel secure and you'd never ever stop messing with it. But like I said... The Luxe isn't an 'ordinary' strapless.
This s**t actually works!!!
If you don't believe us then have a look at this video of our resident model doing Cartwheels (Yes Cartwheels!) or our post showing our pal Rebecca, who wears a 30H, putting the bra through it's paces and checking it's 'holdability' (is that a word?!). Or you could just look below at some of our gorgeous blogger mates who challenged the Luxe to uphold their 38J boobs... and from the look of their boobs, these girls are happy bunnies!
Here Kathryn from 'Miss Kathryn's Mistakes' is wearing a 38J and Lottie from 'Lottie L'amour' is wearing a 38HH.
Both Naomi from 'Diamonds and Pearls' and Sarah from 'Plus Size and Proud' are wearing 38Js and rocking them!
Massive thanks to the girls for trying out the Luxe and don't they look amazing?!
But do you know what? This bra doesn't just work, it goes one step further. This bra holds up a whopping 6KGs! Which is a major break-through for the strapless bra world! If you're not quite sure how much 6KGs weighs then have a little look below and imagine carrying all of these things around in your bra!
A Bald Eagle.
Yep. That's right - A Bald eagle weighs 6KGs. Even though I'm sure the Luxe provides enough lift to make a pretty good perch for this guy, probably best to keep those talons away from the fun-bags.
15 cans of Heinz Baked Beans.
That's a whole lot of beans and a pretty heft weight to be lugging around in your bra!!
A Domestic House Cat.
Although I'm sure it would be warm and cosy having a cat snuggled on your lady lumps we're pretty sure it'd get heavy and hot very quick!
So there you have it, real life proof that this bra doesn't only work but holds gravity defying weights while it's at it. The Luxe comes in cute Biscotti colour which can be worn under numerous colours, or a Black to keep things classic. Stockist include Curvy Kate, Figleaves and Bravissimo.
So, have you tried the Luxe? What do you think? We'd love to hear from you!
Also if you want to join in the fun and know how much your boobs weigh then have a read of our boob-weight blog and see what your Luxe is carrying around!
Big Love x