#MyBodyVictory - Meet Hayley Hasselhoff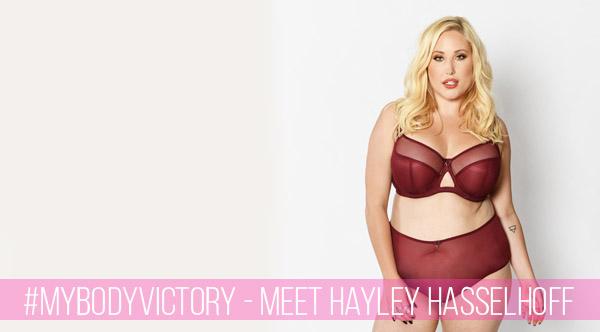 Say hello to our girl crush Hayley Hasselhoff, who is one of the many mega-babes in our new campaign #MyBodyVictory
A plus size model and actress, Hayley joined our campaign already being a fan of Curvy Kate and has been seen sporting the Victory at a red carpet or two; "I've always been such a huge fan of Curvy Kate. I live in the Victory bra already, so it was perfect fit for me".
Being in the public eye, Hayley understands her role and influence, "Being an influencer I want people to be inspired by my path, but being able to find their own journey. I never want someone to embody what I do. Or to think my path is theirs. I want them to find inspiration from my path and figure out who they are."
Hayley in Victory Wine - Click to shop her look
We think Hayley is super inspirational and a great bopo role model. Hayley is grateful her job allows her to celebrate her body, "I'm reminded by the people I work with or the job I'm presented with of why loving my body is so important and how it all starts with me."
She leaves us with the words, "It is so important for us to get together and celebrate our body in a way that lingerie doesn't only have to be sexy, but it also can be empowering" .
So let's get empowered ladies and share with us your #MyBodyVictory, celebrate your body with us for a chance to win weekly throughout the month of August. Head here to see the comp deets!