#MyBodyVictory - Meet Grace Latter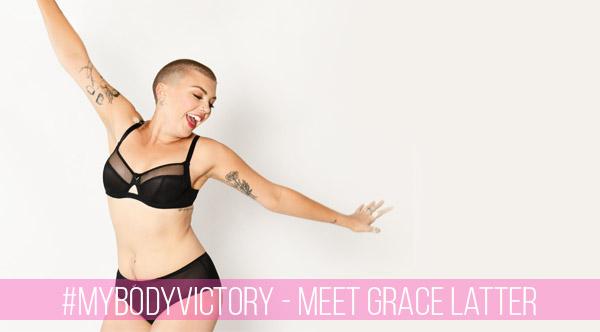 Say hello to blogger of Almost Amazing Grace, Grace Latter who is one of our beautiful #MyBodyVictory campaigns stars.
Grace 24, is OBSESSED with reading and graduated in Drama and Creative writing, she is an aspiring author who is a two time survivor of brain surgery. She also loves it when people double-take at her head scar.
Grace is one strong inspiring lady who has had 4 operations in the past 4 years!
"In the past 4 years, I have had two brain surgeries to remove a tumor and last year I had to have two operations on my bowels - completely unrelated." Grace learned to love and rely on her body "I can honestly say that I started loving and appreciating my body and not feeling insecure about it, in the times when it stopped working. I had to trust it to get through what I was going through".
Grace had grown her hair out after her operations so the scarring was no longer visible. But being the star she is she shaved her hair off for charity. She felt like not having hair left her with nothing to 'hide behind'. She realised that her scars weren't so bad after all.
Grace in Victory Black
"I absolutely adore the scars on my head and on my tummy. The one on my head feels that much more powerful."
Being an influencer and an inspiration to anyone going through similar circumstances,she spoke about the effect of social media.
" I do worry about young women at school, college and university who are pressured to be a certain way and to project a certain image. I really hope they come to realise themselves or through influencers and this campaign, that they are perfectly fine and they need to do is love what they have got."
We totally agree! This is the spirit we want to channel with #MyBodyVictory.
So let us know. What is your Body Victory? x