Love Island: Four NEW Islanders enter the Villa...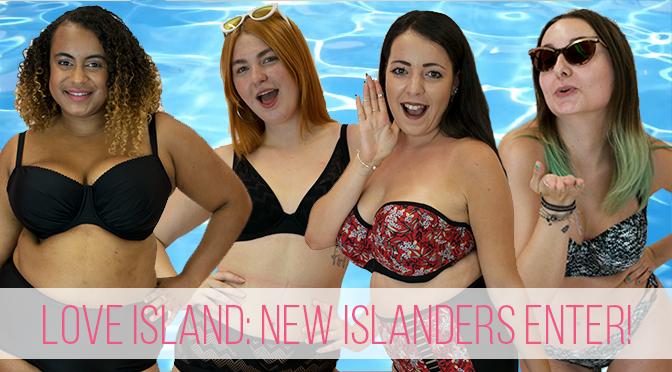 We LOVE Love Island just as much as the next person and have fully come to terms with the fact our lives will be taken over with all things grafting, muggy, texts, type on paper and finally… Size 6-8 women with the 'perfect body' and men with more muscles than a seafood restaurant. OH HEY LOVE ISLAND, where the Curvy girls AND guys at?!
We're not the only ones who think this and for obvious reasons, the lack of diversity smacks you in the face like Hayley saying Eyal's breathing annoys her. Yes, the newbies in the villa are stunning and look amazing but so would a girl who doesn't look like they've just come off a Victoria Secret catwalk show or spent all day in the gym! It feels like a massive step backwards Love Island in terms of size inclusivity.
Since it started last week social media has spoken, with girls and guys wanting to see more diverse bodies in the villa to represent all shapes and sizes. At Curvy Kate, we've never been shy with words and come on – of course, we wanted to have some Love Island inspired fun in the studio, so let us introduce you to the four new Islanders! 🙌
Phoebe Gowers
Phoebe Gowers wears Curvy Kate Maya Bandeau Bikini
Name: Phoebe Gowers
Age: 25
Occupation: Model
Phoebe Preston
Phoebe wears Curvy Kate Hi-Voltage Black Bikini
Name: Phoebe Preston
Age: 24
Occupation: PR and Communications Executive
Georgia Dodsworth
Georgia wears Curvy Katre Jetty Black
Name: Georgia Dodsworth
Age: 20
Occupation: Student/Influencer
Shop her Jetty Black Bikini Here
Lucy Jayne
Lucy wears Curvy Kate Diffuse Halterneck Bikini
Name: Lucy Jayne
Age: 25
Occupation: Social Media Coordinator
Shop her Diffuse Halterneck Bikini Here
Firstly, a big thank you to the CK girls who happily took part in our in-house shoot. They all work diverse body shapes, from big beautiful bums, thick thighs (that save lives) to fuller chests, natural fat rolls, stretch marks and cellulite that we're certainly NOT ashamed of!!
Diverse bodies represented in the media is incredibly important, the impact of seeing the 'perfect body' spattered across our screens is damaging to self-esteem and self-worth. During the launch of Love Island last week (watched by millions) social media become inundated with tweets and comments on their own bodies. 'Looking at the girls on love island is one way to feel shite about your body, they're all tiny' - tweeted one viewer whilst another said "The girls on #loveisland are absolutely gorgeous, but not everyone is a size 6 or a model, my self-esteem and hopes of looking like that are loooong gone, where are the currrrvy thicc girls too!!!!" 👈 We totally feel ya!
The UK average women's dress size in 2017 was 14-16, yet we can't see any girls even above a size 6-8 in the Villa, NOT COOL! The show makes great TV and of course, we're fully obsessed - but we can't help but notice the dark cloud that's looming over this series!
So, ITV wanna sign us up?!
Let us know your thoughts on this years Love Island contestants so far in the comments below 👇