🎮 Loading… Twice The Fun Bralette! 🎮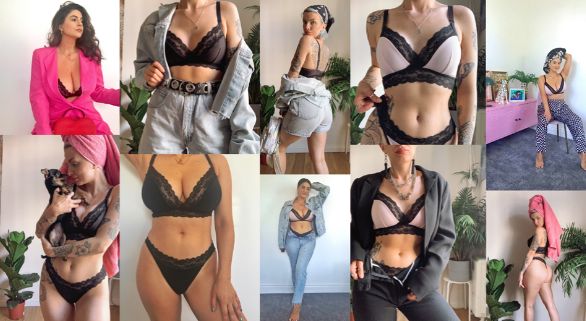 Curvy Kate have jumped on the Tik Tok trend 'Choose your Character' so show the ways that you can wear our latest reversible soft cup bralette!
Heli and Daisy look INSANE wearing Twice The Fun bralette, the girls have styled up the bralette in fun, sexy, sassy and cute ways to that you can choose which Curvy Kate character you are! The Twice The Fun bralette is available in sizes 30-40″ DD/E-J/JJ cup, it can be quite a squeeze over your boobs as it is a fasten free back but take it easy and we promise its worth the jiggle!
DAISY DUKE
We love the way that Daisy has styled Twice the Fun with double denim, the chunky black belt really brings this looks together.
CUPID
This is a look which is amazing both ways with Twice The Fun! The light pink would compliment these bold tones and the black is a sassy contrast! We are in LOVE with Heli!
PEBBLES
Daisy is totally channeling the cutest Flinstone, Pebbles with her hair in this cute topsy showing off the pink side of the Twice The Fun reversible bralette!

LACE QUEEN
Keeping it all black and totally chic, we love the simplicity of Twice The Fun with the gorgeous stretch lace underband and trim!
The many talents of Twice The Fun don't end at it being a reversible bralette! You can also change it up to a halter for sexy simplicity or wear in a racer back for added support thanks to the multi-way straps!
Which Curvy Kate Character will you choose?
Shop our fabulous non wired Twice the Fun Bralette now to level up your lingerie game!