Big Boob Quiz of the Year 2021!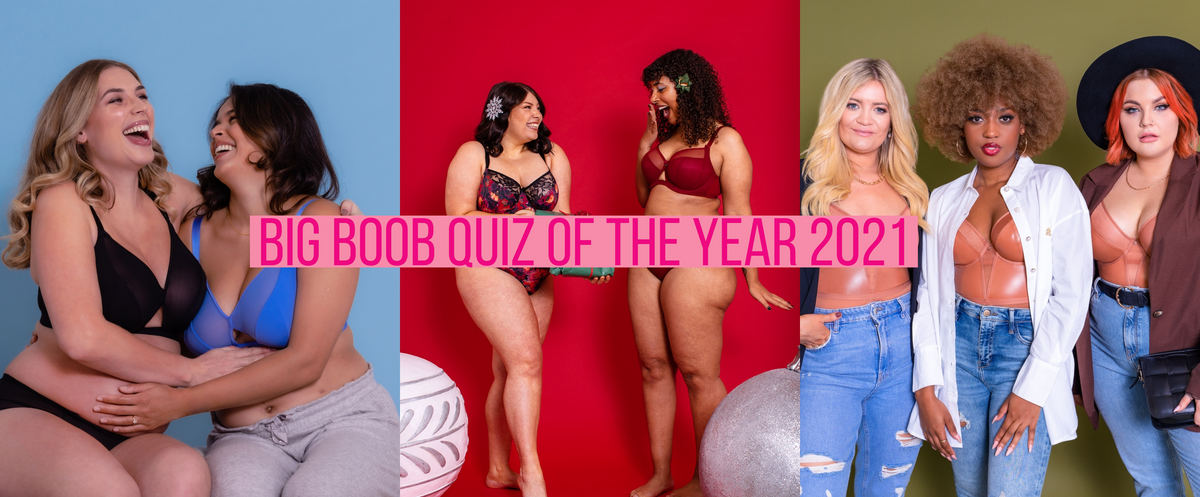 Are you a Curvy Kate Super fan? Well, how well do you know your BOOBS?

 
Take this quiz with your girlfriends this Christmas or NYE whether that's over zoom or in person and test how well you know the world of boobs!
PS...you can shop any of the bras you see here by clicking on the images!
1. Who is this? 
a) The Bra Speaker
b) The Boob Talker
c) The Bra Whisperer
d) The Bra Fitter 
2. What is the percentage of women wearing the RIGHT bra size?
a) 10%
b) 45%
c) 87%
d) 20%
3. How often should you have a bra fitting?
a) Just once 
b) Once a Year
c) Twice a Year
d) Once a month
4. Who's boobs are these?
a) Kylie Jenner
b) Ashley Graham 
c) Chrissy Teigen 
d) Kim Kardashian 
5. What's wrong with this bra?
a) Double boob, back band is rising, boobs are not lifted
b) Straps are too tight, forgot to 'Scoop & Swoop'
c) Nothing!
d) Straps are wonky 
6. What do you do to make sure your bra is fitting better when you put it on?
a) Look in the mirror and check
b) Scoop the breast tissue in, then swoop it up. Bend over and jiggle the remaining breast tissue into the cup
c) Ask someone to check
d) Get a bra fitter to fit you again 
7. What is one of our best selling strapless bras?
a) Smoothie Strapless
b) Milkshake Strapless Bra
c) Luxe Strapless Bra 
d) Luxury Strapless Bra 
8. What style of bra is this?
a) Balconette Bra 
b) Full Cup Bra
c) Plunge Bra 
d) Multi-way bra
9. What colour is Scantilly's signature hardware on their bras?
a) Silver
b) Gold
c) Pink
d) Rose Gold
 10. How old did Curvy Kate turn this year?
a) 20
b) 12
c) 17
d) 6
Let's see how many you got right! Head over to our Instagram to share, we wanna know...
ANSWERS:
1. The Bra Whisperer!
2. 20%
3. Twice a Year
4. Kim Kardashian
5. Double boob, back band is lifting, boobs are not lifted 
6. Scoop the breast tissue in, then swoop it up. Bend over and jiggle the remaining breast tissue into the cup
7. Luxe Strapless Bra
8. Balconette Bra
9. Rose Gold
10. 12