6 Signs your bra is just NOT that into YOU!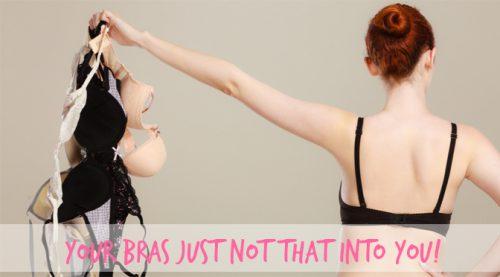 We don't mean to sound like a broken record, but hey it's 2018 now so listen up! 👂 A hell of a lot of women are STILL wearing the wrong size bra and we're not happy about it. So have your boobs been living a lie? No matter how pretty your bras look, no matter how much time and effort you've put into wearing them, even if it's helped you get a little somethin' somethin' 😏 You can't hold onto something that keeps letting you down! So, here are 6 signs your bra is just NOT that into you...(and it's time to get a new one)
Click the GIF to shop all new Curvy Kate
Your bra straps keeping falling down OR digging in. First and foremost, bra straps do not hold up your breasts, they are simply there to make wearing a bra more supported and comfortable. So if your bra straps keep falling down, even after tightening them up to a 'two finger tension'...honey you're in a cup size too large! Try going down 👇 a size. If your straps keep digging into your shoulders and causing you discomfort then take that thing off! These are signs your straps are doing ALL the work and desperately trying to hold your boobs up, you're likely to be in a band size too large 😨

Sick of straps? Try our Luxe Strapless for the ultimate lift!

Your bra band rides up in the back. No way hosay should your back band ride up, take a look in the mirror and see if your back band is laying firmly and horizontally across your back? If it isn't then it's not right. Try going down a size...thank us later...🙌

WRONG! ⚠️

RIGHT! ✔️

You have spillover...the Mitchell brothers on our chest is enough, we certainly don't want the entire family popping out over the top, bottom and sides of the cups. If you have the dreaded quad boob 🍉🍉🍉🍉 it's time to go up a cup size.

Not comfortable!

If your underwire is sitting away from your chest....the middle piece between the cups should sit flat on your rib cage and underneath the breasts. You should be able to lift your arms over your head without the underwire rising up. Go on give a try and see! 🙋🙋

Daily Dream Pink Mix, click image to shop

If you're wearing your

NEW

bra on the last hook then something is wrong. You should feel most comfortable on the middle hook but start wearing it on the first. That way, when your bra stretches over time, you can tighten it. If it's already too loose, go down a band size.
If you're in constant pain you may not be getting the right support from your bra. At Curvy Kate we specialise in supportive lingerie for fuller busts, so try out some of our most comfortable ones here. Before that though, it's so important to get sized properly. Ask your friends or family where a reliable bra fitter is in your area, but go knowing exactly how a bra should look and feel. Watch our How to get the Perfect Fit with Curvy Kate video...👇👇
Sometimes you need to know when to let go of that bra that just don't feel right...
You know what they say, out with the old and in with the new! Shop all new Curvy Kate HERE
💕💕